CMMS and Enterprise Asset Management Solutions
Manage critical physical assets on one common platform
​
Maximo for Oil and Gas is a complete enterprise asset management solution that helps manage production equipment, facilities, transportation and infrastructure assets on a single, integrated platform. It helps organizations improve safety, reliability and compliance performance. It does this while reducing costs through standardization, convergence, collaboration and the adoption of better operational practices.
​
Use IBM Maximo for Oil and Gas to:
​
Understand best practices to help improve the productivity and efficiency of critical assets.
​
Manage each asset's life cycle including acquisition, work management, inventory control, purchasing and preventive maintenance.
​
Specifically address the specialized industry concerns such as failure codes, asset specifications, location details, prioritization matrix, regulatory compliance and condition for work.
​
Help reduce cost and facilitate and automate common processes.
​
Easily integrate into most existing business systems, because it is built on J2EE component-based Internet architecture.
​
It also helps managers:
​
​
Facilitate compliance efforts.
​
​
Instill integrity management.
​
Reduce manual intervention.
​
Respond to complex supply chain demands.
​
Align roles and responsibilities.
​
Facilitate continuous improvement.
​
Standardize and sharing data.
​
Improve organizational learning.
​
Address health, safety and environment needs.
MegaSoft BSM Solutions
To maximize the value of your assets, you need a robust set of enterprise capabilities designed to meet the demanding needs of asset intensive organizations that need to keep their plant or facility at peak performance. MegaSoft Business Service Management (BSM) Solution based on IBM Maximo can help you.
For Enquires, please Contact
Eng. Zeyad ElSherif
Head of Business Service Management
Mob KSA: +966(54) 712 39 49
Mob EG: +2(010) 64 125 125
Tel: +202 22916581/7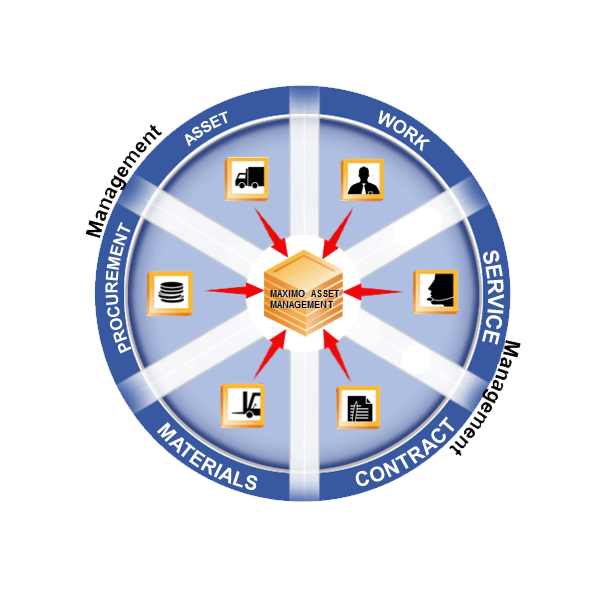 Industry-specific features
​
Helps you manage each asset's lifecycle including acquisition, work management, inventory control, purchasing and preventive maintenance.
​
Can import standard failure code data into the Maximo table structure. Helps reduce the time to gather and load failure classes, problems, causes and remedies.
​
Can import standard asset specification data, allowing you to classify assets for certification, licensing, trend analysis and equipment standardization.
​
Provides insight into asset characteristics such as true physical location, engineering reference numbers, safety zones and permitting requirements.
​
Provides a matrix-based system of work or risk prioritization.
​
Built on a component-based Java 2 Enterprise Edition (J2EE) internet platform.
​
Best practices and predefined responses
​
Provides guidance on work completion for an asset, group of assets or location within a plant site.
​
Lets you define condition for work (CfW), allowing you to aggregate or recognize similar work that arises during plant operations.
​
Creates and manages predefined responses to problems and lessons learned following an after-action review.
​
Defines benefits that can be associated with improvements and solutions.
​
Support for compliance
​
Relates regulations that are relevant to work planned in Maximo and actual work carried out.
​
Can provide documented proof that Maximo-based work is completed in compliance with required regulations.
​
Can demonstrate compliance with many statutory requirements covering safety, health and the environment.
​
Data analysis and reporting capabilities
​
Provides defect and incident reporting to document deviations from expected operation.
​
Includes reports to document the costs and benefits of implementing improvements to a business process or plant configuration.
​
Provides analysis to help you address an unresolved incident or defect, or to record the results of root cause failure analysis.
MegaSoft is a Premier IBM Business Partner in Egypt and Saudi Arabia
All product names are used for identification purposes only and are trademarks of IBM®
Information and content courtesy of IBM®